Social Events

Program Sunday, 17 September 2023
12:00-15:00 Earth Sciences Day – A public program with short talks and workshops for all interested in Mineralogical Sciences, Earth Sciences, and Material Sciences in daily life. (Information will be provided at the Entrance to the Geoccentre)
14:00-20:00 Registration (Central Area of the Geocentre)



16:30-18:30 Opening Ceremony (Lecture Room 3)

Opening Remarks and Greetings


Welcoming Addresses
Univ.-Prof. Dr. Rainer Abart
Dean of the Faculty of Earth Sciences, Geography and Astronomy, University of Vienna
Univ.-Prof. Mag. Dr. Ronald Miletich
Head of the Department for Mineralogy and Crystallography, University of Vienna
Prof. Dr. Horst Marschall
Chairman of the Deutsche Mineralogische Gesellschaft
doc. Mgr. Peter Bačík, PhD.
Chairman of the Slovenská Mineralogická Spoločnos
HR Dr. Vera M. F. Hammer
President of the Austrian Mineralogical Society


Opening Lecture
Andre Baldermann (Institute of Applied Geosciences, Graz University of Technology), ÖMG - Felix Machatschki Medallist 2022,
Title: The Role of Mineralogy: Case Studies from Austr(al)ia



18:30-21:00 Get-Together Party (Central Aera of the Geocenter)

Guided half-day tours during MinWien2023
The tours offered during MinWien2023 will show exhibitions and collections related to Mineralogical Sciences. They are not usually accessible for tourists in this way. Experienced colleagues from the respective disciplines will guide you through their daily working area. As they are more than familiar with the exhibitions our guides will be available for questions.


We truly appreciate the guides for the possibility of these very special tours and for investing their time.
The organizers of MinWien2023



Tuesday, 19 September 2023


Public lecture – Öffentlicher Vortrag (in German with English slides) (Lecture Room 3), 18:10-19:10
Rohstoffe für den Green Deal: woher nehmen?
F. Melcher (Leoben)

Wednesday, 20 September 2023, evening: Conference Dinner

The MinWien2023 Conference Dinner will take place at the Festival Hall of Vienna's City Hall on Wednesday, 20 September, 2023.
Starting time: 19:00 (doors will open at 18:30).

Vienna's City Hall is one of the many famous buildings located on the "Ringstraße" surrounding the city center. It was designed by the architect Friedrich Schmidt (1825-1891) and was constructed between 1872 and 1883 in the neogothic style. At the top of the building tower is a well-known symbol of Vienna: The "Rathausmann" with a monumental height of 5.4 m.
The Festival Hall is an impressive room being 71, 20, and 18.5 m in length, width, and height. Attending the Conference Dinner will be a wonderful opportunity to taste traditional Viennese cuisine and local wines. The City Hall can be reached easily from the Conference Site by a 10-minute ride with tram "D".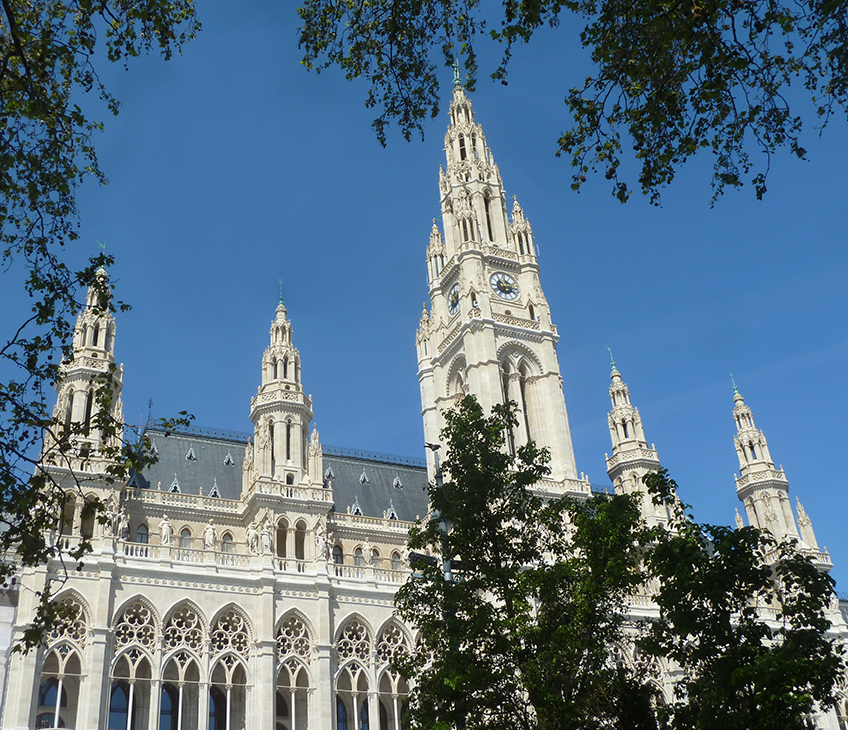 Vienna Townhall | © H.S. Effenberger
Thursday, 21 September 2023, afternoon:

Poster Award Celebration and Closing Ceremony

Poster prizes will be awarded for the best contributions by young scientists.



Recommendations for Viennese Cultural Life

In September, the theatre, concert, and opera season starts.
For events and ticket orders please see: https://events.wien.info/en/ and https://www.viennaticket.at/en